2015 ServSafe Classes
Why ServSafe Certification?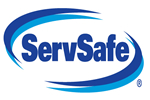 Because the ServSafe Food Protection Manager Certification is accredited by the American National Standards Institute (ANSI)-Conference for Food Protection (CFP).Because the ServSafe Food Protection Manager Certification Exam is valid, reliable and legally defensible. Because it's certification the industry trusts. In fact, more than 3 million ServSafe Food Protection Manager certifications have been awarded to date.
 Cost $105.00, includes class, book, answer sheet, refreshments.
***Please Pre-register and pre-pay.
Make checks payable to:   Yancey County Extension Account
***Book/test available in Spanish at no extra cost but must register three weeks prior to the class to avoid additional fees.
October 2015 @ Yancey County Cooperative Extension Center, 30 E. Hwy 19E By-Pass, Burnsville, NC  28714
Thursday, the 15th, 9 to 5
Thursday, the 22nd, 9 to 5, Class and Test
Maximum 20
Special classes can be set up with your organization to better fit your organization's schedule, need to have at least eight people needing the training.
Classes may be canceled if pre-registration is low
To register call
Yancey County Cooperative Extension
30 E Hwy 19E By-Pass
Burnsville, NC 28714
828 682-6186
or email: norma_chrisawn@ncsu.edu