Med Instead of Meds ~ Virtual Cooking Program
Find this article at:
go.ncsu.edu/readext?733971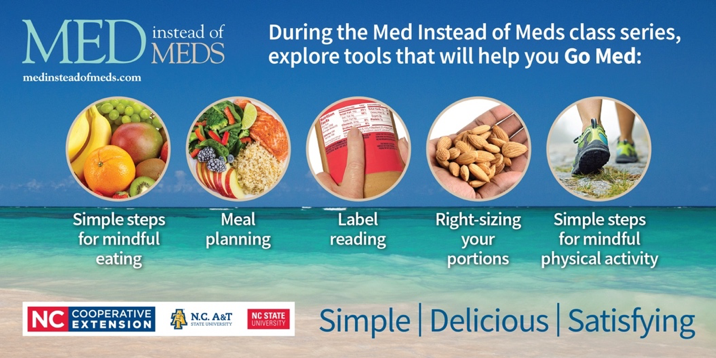 More Instructors. More Social Interaction. More tools.
Med Instead of Meds is coming in October 2020! Family and Consumer Sciences Extension professionals from across the West District of North Carolina will join together to host an online series of the Med Instead of Meds program.
Eating the Med Way has been proven to protect against chronic illness. In some cases, eating the Med Way may even result in decreasing medications taken for blood pressure, high cholesterol, or diabetes.* Hence the name Med Instead of Meds. We are passionate about providing people with the information and tools needed to make delicious meals for themselves and their families. We, too, are on this journey with you to transform our eating to the Med Way.
When:  Mondays from 5:30 to 7 p.m.
Session 1 October 12                                              Session 4 November 2
Session 2 October 19                                              Session 5 November 9
Session 3 October 26                                             Session 6 November 16
Here's what you can expect: 
Learn 1-2 simple Med steps, including tips and hacks, each session,
A wealth of knowledge from Extension professionals,
More social interaction to share your successes and challenges, including a Facebook group and discussions,
Med Way recipes with live cooking instruction, and
Tips to help you stay on track through the holidays!
Each week class participants will meet on Mondays from 5:30 to 7 p.m. The format consists of: 
Weekly meetings via Zoom – includes presentation, live cooking demonstration, and Q&A.
Follow up emails with printable handouts, recipes, and links to recorded cooking demos.
Offline challenges and activities within a closed Facebook group.
Access to 5 Extension professionals to answer your questions about the Med Way.
Register today: Registration  
Registrations end on October 9
Kim Terrell                 Macon and Clay
Margie Mansure        Watauga and Caldwell
Julie Sawyer               Haywood
Cathy Hohenstein       Buncombe and McDowell
Sue Estridge                Madison and Yancey
*Check with your health-care professional before changing any prescribed medications.
Asked Questions
Can I participate if I live outside of one of the listed counties or outside of NC?
Yes. Virtual programming offers the advantage of access. Everyone is welcome. Joining a Zoom session is easy and accessible via mobile phone, tablet, or computer.
How much does it cost?
We are offering the class free-of-charge to make it accessible to everyone.
What if I can not attend the live sessions at 5:30 p.m. on Mondays?
We understand that many people have demands that will not allow them to attend all of the live sessions. If you are interested in attending, please register anyway. We will send out printed materials and have links to online cooking demos and other materials if you miss a session. There is also another Med Instead of Meds program being offered in the South Central part of the state on Wednesdays at noon.
More information on that program
What is the benefit of attending the live sessions?
During the live session, participants will have an opportunity to ask questions, learn, and strengthen their network via small group discussions. While some of this will take place in the Facebook group, the live sessions offer a bit more connection.
Can I share this information with others who may be interested? 
Yes. Please feel free to share with others. The registration deadline is October 9.
V