What Is the Empowering Youth and Families Program All About?
Find this article at:
go.ncsu.edu/readext?744492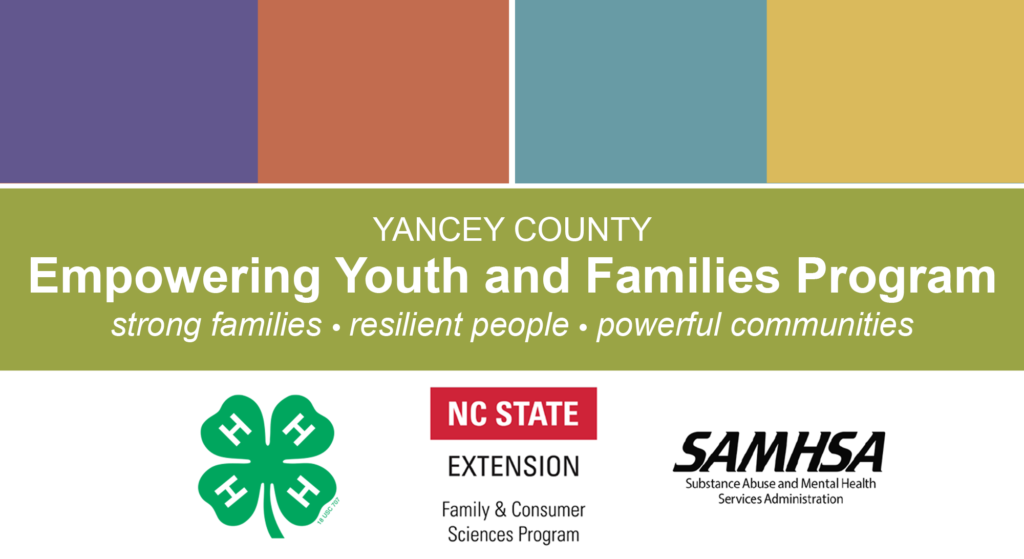 The Empowering Youth and Families Program (EYFP) is a 4-H program unlike any other. Instead of simply working with youth, we include caregivers as active participants too. The program is fairly new (only around 3 years old) and was developed in response to the opioid crisis in North Carolina. EYFP focuses on prevention in hopes of shedding some light on the opioid problem across our state – specifically in rural areas where misuse is the highest. Yancey was one of the first three counties in the state to run the program and is now joined by fifteen additional counties, including the Eastern Band of Cherokee Indians and two counties in eastern Tennessee.
EYFP is structured differently than most drug prevention programs. Its innovative curriculum is divided up into ten sessions: the first five lessons are the "Powerful Families" portion, and the last five make up the "Powerful Communities" portion of the program. The weekly sessions are split into three parts – youth, caregiver, and family. The youth and caregiver lessons always relate so they can be put to use in the family lesson. During the sessions, we discuss topics such as managing emotions and stress, looking at ourselves as individuals and where we fit into our families and communities, positive communication, influences that impact our lives, and more! Family sessions often have keepsake projects that families build or create together as reminders of how strong their family really is. Each lesson is designed around one of the five protective factors that have been proven to reduce substance misuse when implemented in the home. The program ties together prevention, healthy living, and mental health to create a well-rounded experience for families that participate in the program.
The ultimate goal is to encourage our families to go out into the community and make a difference. At the end of each of our cohorts, the families get together and create a plan to host or participate in a community event. These events are used to bring awareness and to educate those who live, work, and play in our community.
Yancey Cooperative Extension is planning to start our fall sessions on Thursday, October 29th at 6 p.m. Due to the current circumstances surrounding COVID we will be offering these sessions online. As a bonus treat for families who join, we will be providing a meal along with an activity box for kids in the home who aren't quite old enough to participate in the program. Our only requirement is that participating families have at least one child in the home who is in middle school. This program is free for participating families.
For more information or to register your family, contact Niki Maness. niki_maness@ncsu.edu or call (828) 682-6186.