Empowering Youth and Families Program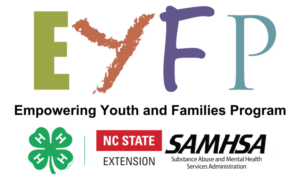 The Empowering Youth and Families Program is a 10 session, special interest club for middle-school aged youth, in partnership with their caregivers, to improve family relationships and communications, develop civic engagement skills, provide service learning opportunities, and combat the opioid crisis in our communities.
---
What is the purpose of this program?
Empowering Youth and Families Program focuses on family relationships and communication and will build on the strong foundation already in place. The goal of the program is much larger than just learning and growing as a family.
During the ten weekly sessions, a retreat for youth and their families is held at a camp facility in North Carolina. Youth and families from each county join with families from other counties to design community outreach events to engage people in their counties in the conversation about opioid prevention. After the retreat, youth and their caregivers continue with service learning to stage their community event.
Youth and their families in the program will reach and teach their counties to help prevent opioid misuse through knowledge and healthy behaviors.
---
What do we do?
Each week, youth and their families meet to share dinner and fellowship with other families. Next, caregivers and youth will participate in separate sessions that provide age-appropriate training in the art of family building or information about opioid misuse. Finally, families will come back together to practice new skills and behaviors.
---
When will we meet?
The Empowering Youth and Families Program will meet in your community on the same night each week for a total of ten sessions. Childcare will be provided by county childcare professionals for younger children so that all members of the family are able to attend.
Program Facilitators: Peirce Bingham, Niki Maness, Jordan English
Contact Information: niki_maness@ncsu.edu, (828) 682-6186
Meeting Location: TBD
Meeting Time: TBD
Meeting Dates: TBD
REGISTER FOR THIS CLASS